10% off 1st Month & Free Lock
Award-Winning Customer Service
Rent online, skip the office and go straight to your unit. 
COVID-19 Update: We have a Walk-Up Window to safely serve customers in person at Bremerton.  You can call us or rent, reserve or pay online anytime.  For more details click here.
Welcome to Reliable Storage East Bremerton!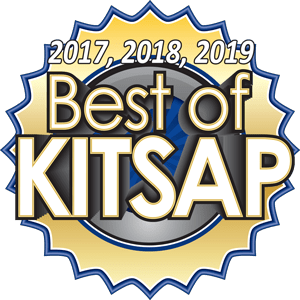 Whenever you stop in to our Fairground Road location, you'll get a warm welcome from managers Sheila and Craig. Sheila's been with Reliable Storage for more than 20 years, and she really knows her stuff when it comes to self-storage. Craig is a genius with a tool belt, and he can fix just about anything—even your storage problems!
Our Location
We're conveniently located in East Bremerton, right next to the Brown Bear Carwash, just a quarter-mile north of Walmart—you can't miss our flagpole! Sheila and Craig live onsite, and keep watch over the facility 24/7. They work really hard to make sure the site and the units are the cleanest around!
Discounts and payments
We make it easy for you to pay your bill online from wherever you are. We also offer a 10% discount for all active-duty and retired military, and to seniors 65 and over. Refer a friend, neighbor, or colleague, and get a $25 bonus!
Contact us today!
When you're looking for friendly, clean, secure self-storage, contact us; we're happy to help!
Site Amenities
Whether you need to store a little or a lot, we've got the perfect solution for you. Our managers live on-site, and our facility has wide driveways, high ceilings, lighted units, and 7-day access. Got an RV or boat to store? Bring it over—we'll take great care of it!
Security Features
We do everything we can to keep our Bremerton self storage facility as secure as possible. Our units are each individually alarmed, and the systems can only be turned off by the tenant, or a site manager. It's also fully fenced and brightly lit, and we also have electronic gates, video surveillance, and a state-of-the-art fire alarm.
Connect with Reliable Storage
Bremerton